The Azores are virtually in the middle of the Atlantic Ocean. If you don't eat fish and seafood here, where else?
On the Azores islands, fish is on almost any menu. But São Miguel has more to offer than fish and seafood. With more cattle than people on the island, the chance to have an epic piece of beef for an affordable price is pretty good as well.
Another guide to São Miguel restaurants?
Yup, we know. You already checked Trip Advisor, Google and whichever site that tells you about all the São Miguel restaurants and their ratings. It's pretty helpful, sometimes, we agree. But other times, you have to just walk in before you think and consider. We share our experience because we think a personal opinion within a context tells you more than ratings between one and five stars. And still, you can have the best time at a place rated one star while the five star fancy restaurant is disappointing. We try to be open to surprises, so some of the places we found through the common rating-sites as well, others were pure accident because we were hungry or curious.
What you need to know about eating in a Portuguese restaurant.
Usually before you order, you get the "cobierto" which consists of fresh cheese (quejo fresco), butter (manteiga) and either a sweet past (dulce) or chilli sauche (piri piri) served with bread (pão). Usually it's not for free, but you can get it for a reasonable price. Often times, we either have some starters or a meal without starters. Both together is too much unless you are really hungry. And if you order fish or meat, it's a pity if you have to leave it for the dogs. Portions are pretty big in Portugal in general, and it's the same in the Azores. The islands have a very rural history and working hard makes you eating much.
Anything else to say? Be nice, learn a few words in Portuguese and tip well. Because a smile goes a long way…
---
Ponta do Garajau
The Punta do Garajau in Ribeira Quente is our all-time favorite. We stumble upon it on our first visit and we were amazed by the quality of the food and the service. It's perfect to have a good time, wether you're into fish and seafood or a nice piece of local beef. The ambiance is very nice, it feels like the owner pays a lot of attention to the details. The message in a bottle-style menu is rich and they have a variety of deserts. We suggest to go for the Mango-sorbet.
Tel. +351 296 584 678
---
TukáTulá Bar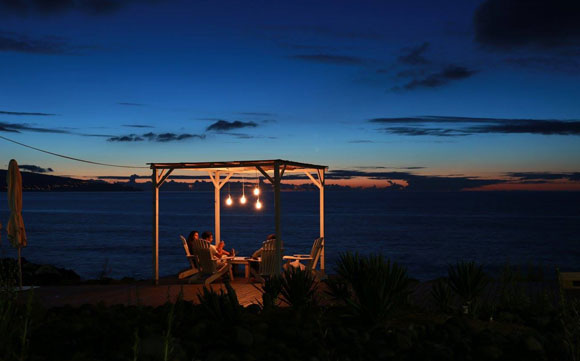 In terms of culinary combined with visual delights, nothing beats to eat on TukáTulá's deck. It's just a stone's throw from Santa Barbara beach in the north. Go there for a stunning sunset along the catch of the day. If you're there to grab a bite, they also serve wraps, pretty solid burgers and a variety of snacks. You're not hungry at all? It's also a cool place to have a beer. Check the views in the video of our first visit in 2015.
Tel. +351 296 477 647
---
Taberna Açor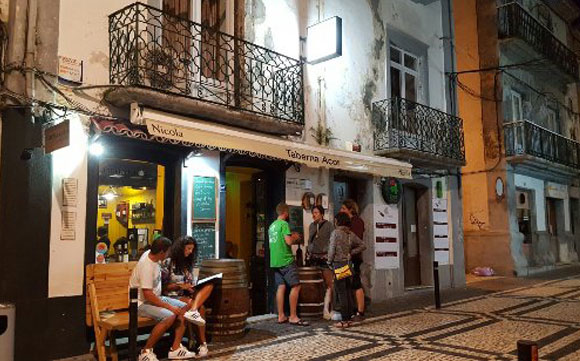 In the center of Ponta Delgada, the Taberna Açor is for every stage of hungry. It's what would be called a tapas bar in Spain, but with a very local touch. It's the best place to provide yourself an overview over the Azorean kitchen. They seem to have everything from the archipelago: cheese, dry meat, sausage, fruit and sweet, you name it. Enjoy it either with a local wine or the typical Portuguese Vinho Verde and you have a wonderful dinner, bite by bite. Even though it's bigger than it seems, it fills up quickly. Coming early or having a reservation helps a lot.
Tel. +351 296 629 084
---
AV/VA Praia Café
At the end of Villa Franco de Campo, the Praia Café is our choice for a lunch. If you go there, we strongly recommend the burger, but their fish is tasty as well. That's very good, because if you stay for a while, you're very likely to go there more than once. The sunny patio overlooking the bay is just a too nice place to enjoy some quality time and the service is neat.
Tel. +351 296 539 162
---
Restaurante da Associacao Agricola de São Miguel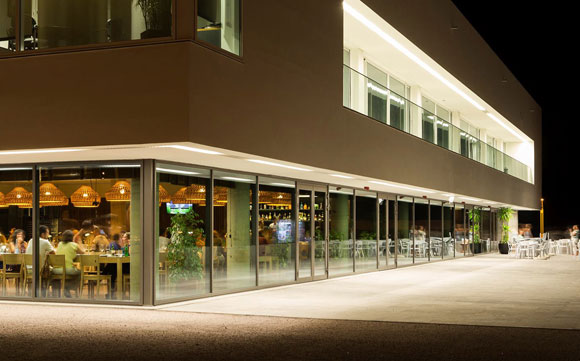 The Restaurante da Associacao Agricola de São Miguel in Rabo de Peixe is one of the most famous São Miguel restaurants and the place to go for beef. They serve it in a wide variety a beef-lover just can't walk by. No wonder they got top-ratings at Tripadvisor and Google. We find it's just a bit too fancy and touristy, but it's a must-do when you're on the island. The regular cut is huge, so make sure you bring some serious hunger or you won't make it all the way to the postres, how the Portuguese call the dessert.
Tel. +351 296 490 001
---
Botequim Açoriano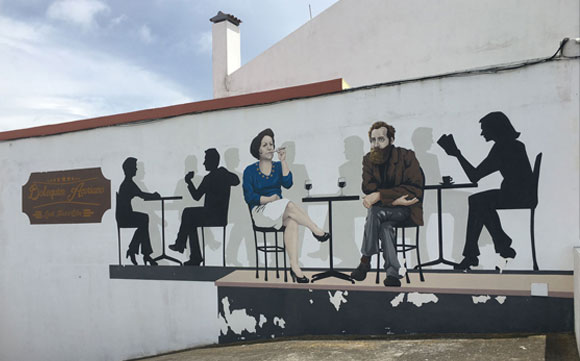 Botequim originally derives from the Greek term "Apotheka" which means "storage" or "grocery store". Located in Rabo de Peixe as well, Botequim Açoriano is another solid choice to eat out. Everything seafood and some meat as well, the menu is not too surprising but locals eating their lunch at the neighbouring table usually is a very good sign.
Tel. +351 296 708 401
---
Forneria São Dinnis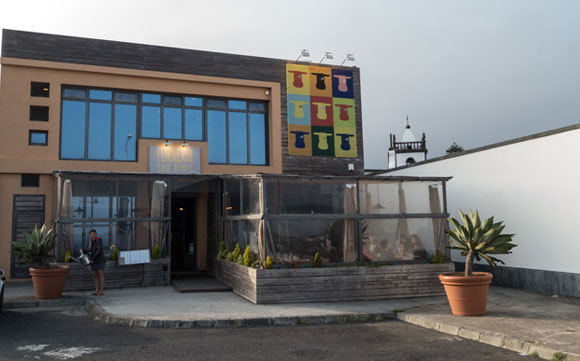 The Forneria São Dinnis is located in Ponta Delgada, pretty close to the end of the airport's runway so it's easy to find. The large menu is a fusion between mediterranean and Portuguese cuisine with local ingredients. That means you'll find pizza (they have a kick-ass pizza oven), pasta, seafood and everything else that makes a connoisseur's heart beating. The service is very charming. Because it's a fairly new and big restaurant, it still may take some time to process your orders. Meanwhile you can enjoy the ocean view from the second story, it's just great. We think its the most sought-after amongst São Miguel restaurants, make sure you have a reservation, otherwise it's going to be hard to find a place.
Tel. +351 968 844 995
---
Louvre Michaelense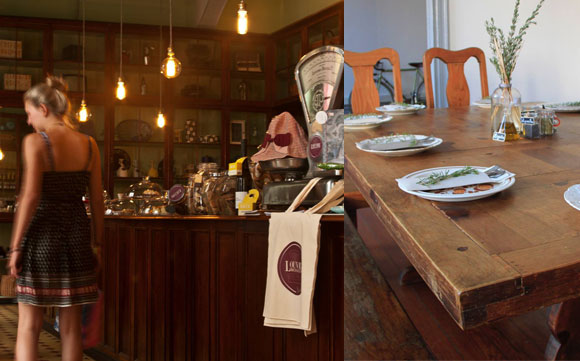 The Louvre Michaelense is located in Ponta Delgada center, close to the Igreja Matriz de São Sebastião. What you see from the street is a nice café with tons of sweets. No matter what your choice is, you will find at least two sweet things you like. The real deal, though, is the restaurant on the first floor. Just pass the Café, take the first entrance on your right and proceed to the first floor. What you'll find is a very lovely living room style restaurant. The menu is small but nice and it's the only place on the island where we found dedicated vegetarian food. You'll eat one of the best burgers ever, even though there's no meat in it at all.
Tel. +351 938 346 886
---
Bar Caloura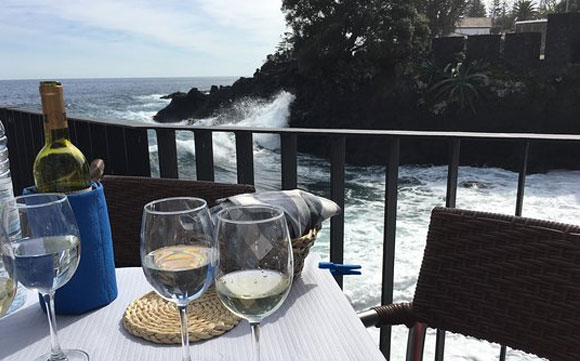 The Bar Caloura in the village Caloura is another great fish restaurant. It's a tourist magnet, but for a reason: the setting in a small cove is very nice and while eating, you can listen to the pumping waves crashing onto the gravel beach. You can choose the fish on your own and it is delicious and you won't leave the table hungry, that's a promise. We were lucky to find a table for 6 so if you're a bigger group, make sure you have a reservation.
Tel. +351 296 913 283
---
Alabote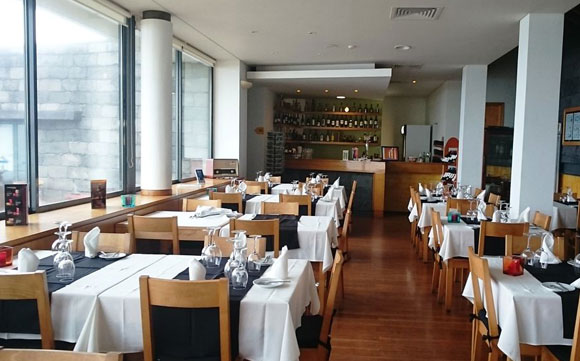 The Alabote in Ribeira Grande features a nice sunset deck like the TukáTulá Bar but is a bit more on the pricey side. Expect some fancy crowds but it's not a problem, we've been there with flip flops and tanks. The food is really tasty and the location is classy with great ocean views. Everything from local seafood to European standards so it's a good choice for everyone.
Tel. +351 296 473 516