São Miguel is a really nice place to go on a vacation, even if you don't surf. And if you surf, it's even better.
If the surf is down or a passing storm spoils your session with 60km/h winds, you don't have to sit it out and sleep all da. Here's 10 things to do on São Miguel
1. Visit Sete Cidades and the abandoned Hotel.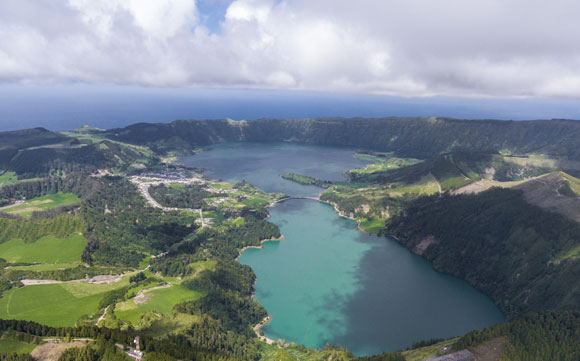 Most tourists visit Sete Cidades (which translates to "seven cities" although there is only one, depending on your definition of city) for the lakes and the cute lakeside town. It is really beautiful, but the real sight you should go seeing is the abandoned hotel "Monte Palace". Built in the 80ties it opened 1998 for about one year before closing forever. In fact it's so cool and has such a weird story that we wrote a special post for it.
2. Take a trip to Furnas and go swimming in natural hot pools.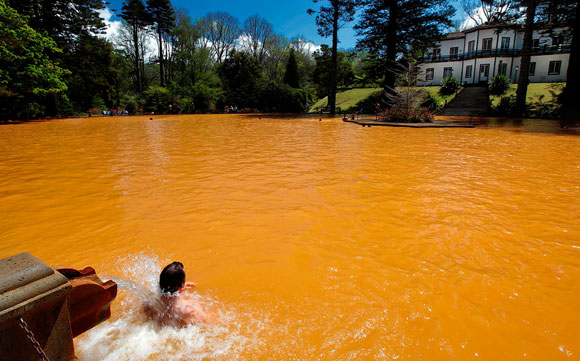 Living in Furnas literally is living in the caldera of a vulcano. You will find smoking fumaroles and the smell of sulfur almost everywhere you go. The volcano is dormant and there has been no eruptions witnessed by humans (which means since the early 15th century) . The heat is still there wich is why locals cook the famous "Cozido das Furnas". It's a big stew to cook at the boiling bottom of a hole in the earth.
When you can cook with volcanic heat, the next hot spring to take a bath must be close: out of all the places where you can enjoy natural hot springs, the Parque Terra Nostra is the most beautiful. Not only because of it's hot springs (one huge basin and two smaller pools hidden in the forest), the park itself is well worth to visit. It's like a paradise within paradise.
Poça da Dona Beija is another beautiful place to enjoy the hot springs, and a good reason to visit Furnas more than once.
3. Swim in the natural pools of Ferraria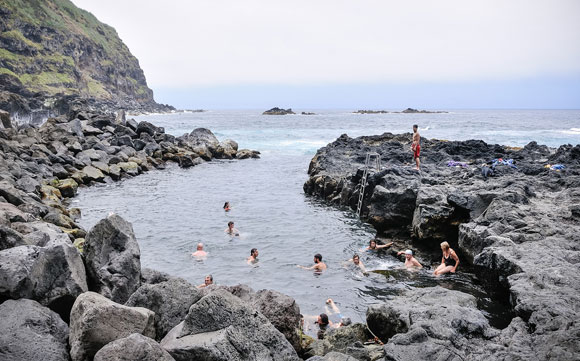 Talking "natural" hot springs, the pools of Ferraria are the most natural ones. As the eruption wasn't too long ago, the heat is close to the surface and actually heats up ocean water. Go there at low tide and you will have an experience that is hard to get anywhere else in Europe.
4. Go to the fishmarket in Rabo de Peixe, buy some and make a BBQ at the miradouro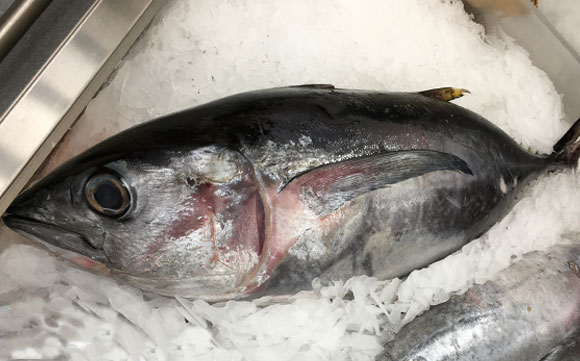 The Azores are in the middle of the Atlantic Ocean and they have very productive fishing grounds around. No wonder you can eat some of the world's best and freshest fish there. If you are early enough, you can get it even fresher at Rabo de Peixes fish market. It is where the fisherman sell their catch to restaurants and grocery stores.
Next stop is the grocery store, get yourself some coal, spices and side dishes and heat to one of the numerous "miradouros". Most of the have BBQ's where the locals enjoy a meal with a view on weekends. During weekdays, there's plenty of place for your feast. We recommend the
"Miradouro da Ponta de Madrugada"
in the east. It's a beautiful facility amidst flowers and the views are killer.
5. Eat local Ananas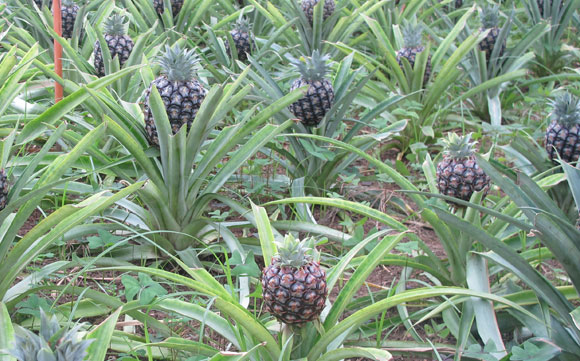 After the Azores islands were struck by a disease that destroyed almost all orange plantations, they had to find another export good to sustain the economy. Besides tea plantation, the Ananas was decided to be the one of the backbones of the agricultural industry. You wouldn't expect it, but as long as you have a greenhouse (and that's why there are around 6'000 on the island), the Azores have the perfect climate to grow Ananas (or Abacaxi, the sour version). You can get it in the grocery store or in almost every restaurant. But if you have an hour and a half, drive to São Roque/Lagoa and visit the
"Quinta das tres Cruzes"
or the
"Arruda Pineapple Plantation"
with the latter being more touristy.




6. See Lagoa do Congro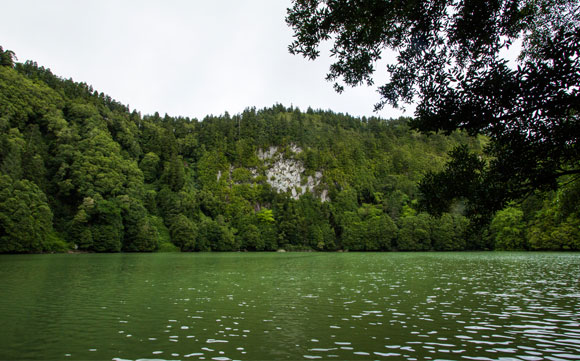 You won't find that one in too many tourist guides. We didn't either (because we don't even have one). Due to my interest in volcanoes I spotted it on
google maps
while searching for craters with lakes in them. With literally hundreds of volcanic features, that's not as easy a job as you would think. When you first arrive, it doesn't seem special and looks like an ordinary wood. You slowly start to recognize it's dimensions when you walk down. It's a 30 minute walk all the way to the bottom. Once arrived, you will feel like in "Jurassic Parc", most probably on your own and completely stunned by this hidden beauty.
---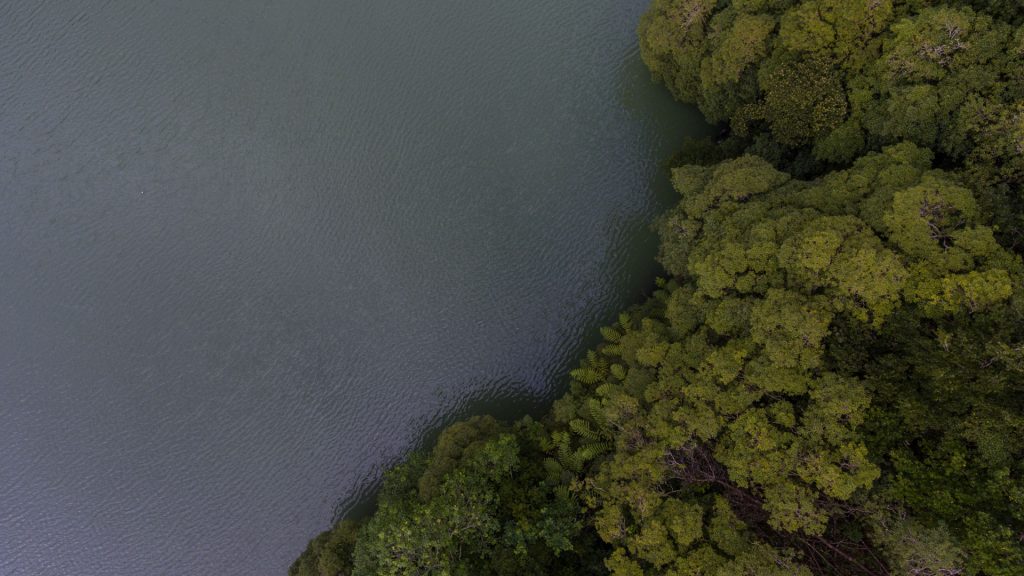 ---
7. Visit the Ilheu de Villafranco do Campo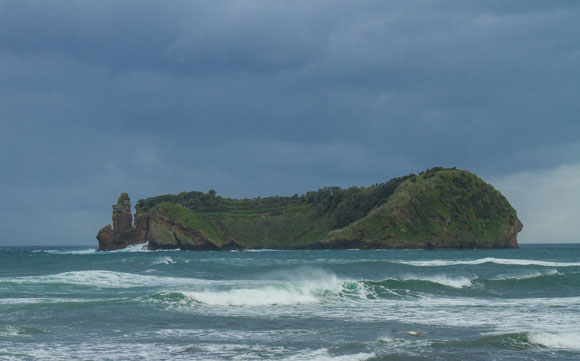 As we always travel to the Azores off-season and focus on surfing, we didn't have the chance to visit the "Ilheu". But it's one of the top sights you must see when you are on the island. Between June and September, you will find an hourly ferry service from the Villafranco do Campo marina.
8. See the sunset in Mosteiros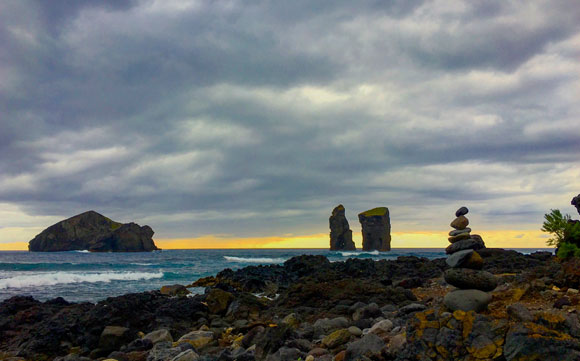 Mosteiros is a small village at the far northwestern end of the island. Beside of the three waves it hosts, it is one of the best place to watch a sunset. Grab yourself something to drink, go to the beach and push that "enjoy-button".
9. Have a beer at a (really) local bar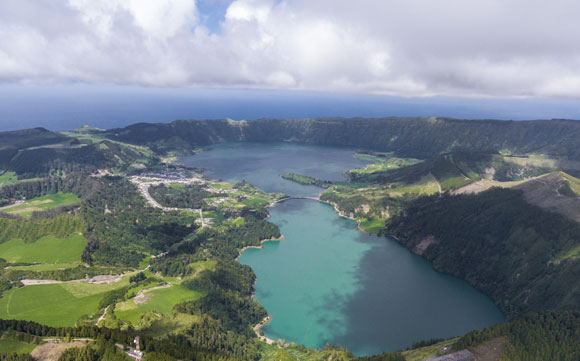 A vacation (and especially a surf trip) is not complete, if you don't dive into the culture. One good way to do it is to visit a bar or cafe where the locals hang out. You should at least be able to order a beer or coffee in Portuguese. Most times, that's the only language you will hear. We do it every once in a while and it's always fun because you will find yourself in a tourist-free environment, using your hands and everything else that helps to chat with the locals. Check out the "Cervejaria Leão" in Ribeirinha to start.
10. Visit the Farol Ponta do Arnel and the beautiful fishing village below.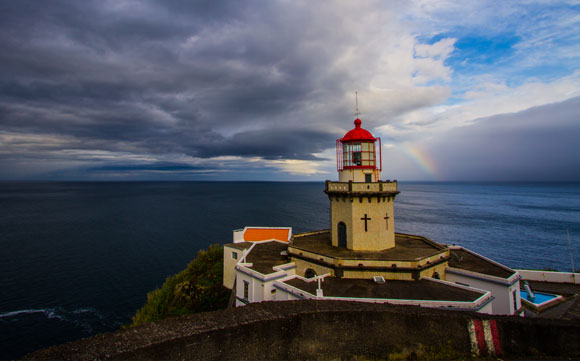 You may have seen it in some of our videos, we just got hooked by this part of the island. If you consider yourself a good driver, drive down to the farol if you want to put your rental car and your driving abilities to a test. Otherwise walking is the wiser choice as the road is really narrow and steep. You will get rewarded by a spectacular view on the ocean and a small but very nice fishing village tucked into the lava stone formations.
If you're all the way through our suggestions, there's off course more things to do on São Miguel. You can visit volcanic caves, hike around in beautiful landscapes, watch whales, fish for tuna… We just don't suggest these things because we haven't done it yet.
11. Read the Stormrider Guide.
A flat day is a good opportunity to read The Stormrider Surf Guide – Azores and Madeira (The Stormrider Surf Guides)
and prepare for the next swell to arrive on the island. Be sure it won't take long.