If you plan to travel through the US for a while, buying a van is a good and mostly cheaper alternative to a rental car. It will take you a couple of days to set it up, so it starts making from a month onwards.
For me as a traveling surfer it makes double sense: I can live inside the car and save big time on motels or hostels. In the same time I don't have to carry my stuff into and out of rooms every couple days. Everything that fits in the van travels with me. I did a couple of mistakes, though. Therefore here's my advice for you to avoid making them.
Buying a car to travel the USA needs some planning.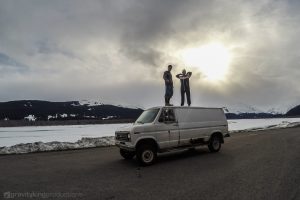 Don't start looking for cars before you're comfortable with the laws and regulations of the state(s) you wanna buy and drive your ride. I was looking for trucks to buy in Alaska for weeks only to find out that non-residents can't title cars. It was two days prior to my arrival and that was a bummer! Luckily I found a workaround: I bought the van and got it insured while a friendly local titled it for me and made me the "designated driver". That's how I got to own #shitfuckvan.
The purchase of DocVan in Seattle, Washington was way easier. The only thing I needed was a residential address. In my case this was the hotel I was staying the night before. Just make sure the friendly clerk collects your mail and get it before you leave. There may be tickets or tolls which you wanna pay if you want to come back to the US. Register a car in Whashington was a bit pricey (around USD 100 including all fees), California would have been be a lot cheaper. I could have gotten a license for three days to drive the car to another state and title it there, but I didn't feel like driving all the way in three days. Plus I liked the fact that the car dealer did all the paperwork for us.
Consider adjusting your travel route (like flying into another destination) and driving for a couple of days straight in order to make it happen. Also make sure you check the car markets of several destinations. It gives you a feeling on the price-level. For example In Juneau, AK, cars are generally more expensive and the choice is far smaller than in a big city like Seattle.
The car you want is not necessarily the car you need.
What you need to know about finding, choosing and buying a car.
Define your needs and be honest to yourself.
While randomly browsing the web helps giving you an idea of the local car market, in the end you need to specify what kind of car you need. It might not be the one you want because traveling the US west coast in a badass truck is fun and a bucket list item for sure, but a van is just much more accurate if you plan on living in it for weeks or months.
Check online.
Once you know your needs craigslist is always a good place to start your search: depending on the location you will find thousands of cars that fit your criteria. Everyone from owner to used car dealer advertises here.
Buying at a dealer's is convenient.
Buying at a car dealer makes the whole procedure easier as he will take care of the paperwork. Running to the DMV seems to be a bit of a hassle, especially if you're not used to it. Another plus: sometimes you even get a limited time warranty. If you feel uncomfortable (and actually you should when buying a car unless you're a mechanic) ask the dealer if you can take it to the next shop and get a second opinion. Assuming he's smart, he'll be ok. No? Insist. This can prevent you from buying a lemon. You will never have 100% security, but as long as you don't know a fair bit about cars, get a second opinion!
I consider myself as a entry level mechanic (at least I can change the radiator, starter, alternator and stuff like that on my Europe-based camper van Rollin' John Wayne) so I thought I don't need to. But that's another story.
What's the best price segment?
Price-wise, I chose the less expensive in-between. Not a complete wreck, but a good old workhorse that has done its duty. Maybe because I like to run into problems, but that's not necessary. Shit happens everywhere and chances are equal that you'll just go fine with an old (and b.t.w. stylish and durable) vehicle as you can have troubles with a fancy, modern car. And the $ 3'000.– one just makes you crying less if you have to abandon ship. Or in other words: I rather invest 3K in a workshop for a 3K vehicle and have a car still running than having a 6K wreck.
How to get insurance for your car.
Having insurance for your car is mandatory if you wanna drive and having a good insurance is even more important. Especially in the US, everything needs insurance. Because if something happens, you will be sued immediately and it's not gonna be cheap. After a couple of phone calls and some help of my friends and a insurance broker in Juneau, AK.
I got a half year of "insurance for a international driver" through Progressive for 319$. I just sent them pictures of my drivers license and gave them my credit card details and I was all set. Filled out some documents on their website and you choose the option "paperless". You get your policy including insurance-ID immediately via e-mail, hop into the next copy shop and here you go. All I needed to switch from Ford Econoline in Alaska to the GMC Vandura in Seattle was another e-mail to the broker.
Get road assistance!
You definitely wanna get road assistance and AAA is the place to go. The "Plus" membership is the best option, including 100 miles of free towing and if you run out of gas, they will help. No worries if you loose your keys, you get USD 100 on your locksmith bill. If your car needs a fix, you even get 10% off on labour in all car shops that show the AAA-Sign. In our case (USD 3'000.– bill), the discount paid for the membership. The cheapest option is around 70 bucks (including the initial fee) but it only includes 5 miles free towing. Keep in mind: towing is pretty expensive. Just sign up is the same address you used to title the vehicle. The membership is personally, so you could even call them if you are stuck with someone else's car.
Places to park&sleep overnight.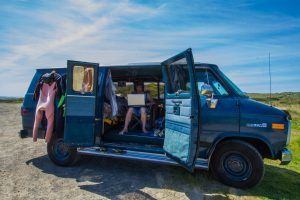 You will find tons of RV-Parks and campgrounds where you can stay overnight. Some of them are nice, some not that much. In general, they are pretty cheap unless it's San Francisco or any other very touristy place. A cheap alternative is to find a nice neighborhood and just park your van on the street. On our 2 month journey we did that most of the time and we never had any issues. Neither in small towns nor in big cities like LA. You will even find places to take a shower in abundance on beaches. The quick stop at the local Starbucks in the morning does for the rest. They also have the most reliable WiFi around for as little as a coffee.

Widget not in any sidebars