It can't get any greener than the Oregon Coast.
Heading west from Portland you will soon notice the green that's surrounding you everywhere. First it's the endless forests and – after a short breakfast stop at the famous Camp 18, a former logging station that is a restaurant now – the trees, bushes and plants that cover the coast as soon as the sand is over. Seaside was our first stop where we were looking for a lefthand pointbreak called "Seaside Point". Unfortunately it was pretty mushy but still a nice place to spend the first night on the coast. You can actually park a couple of steps from the water with full-on sunset right in front of you. Seaside is a beach community just as you imagine, with lots of hotels, restaurants and shops so it's easy to spend some time. And when your legs get tired and a refreshment is needed, the local brewery is the place to go.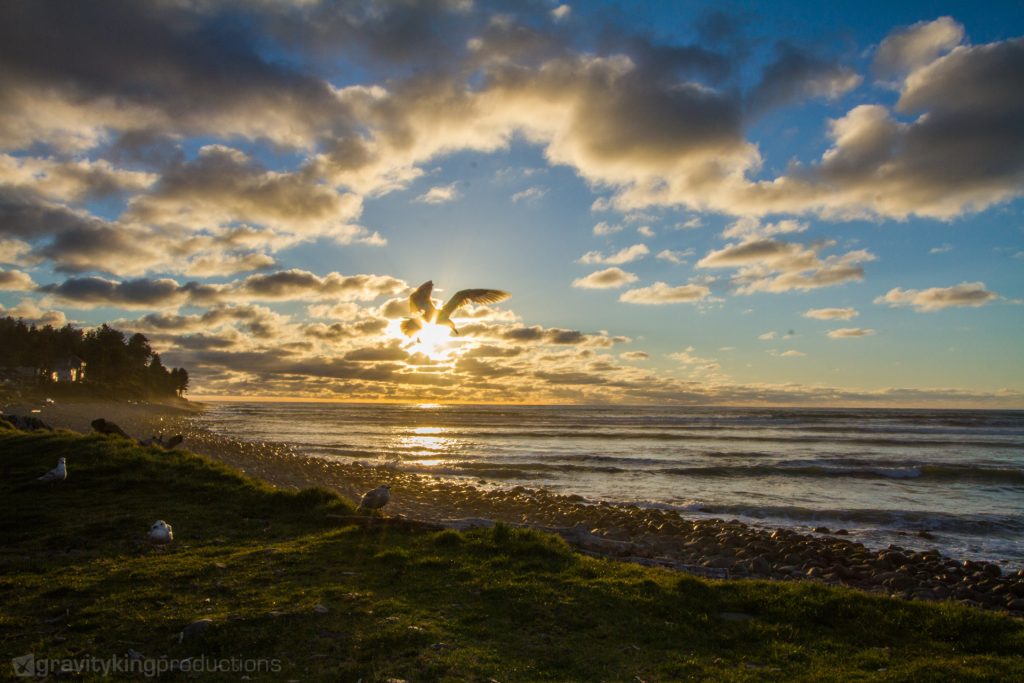 Surfing in Pacific City.
One of the most beautiful places we found on the Oregon Coast is Pacific City. A little beach town tucked into the coast hills like a postcard picture. With the Pelican Brewery located right on the beach and very friendly locals it wasn't a hard decision to stop and spend a couple of days. The water is really cold but the surf is nice even though the well known righthander at the cliffs isn't working as good as a couple of years ago. In fact, it was the only place we actually surfed in the Northwest. The weather just didn't want us to.
Sandbuggying the dunes in Coos Bay.
Ever been riding over the dunes in a sand buggy at 45mph? Me neither. The weather was just too bad to enjoy it so that adventure has been postponed for the next trip. The dunes are enormous and there is a lot of activity around them, so if a buggy is rather too fast, you can switch to horseback riding. As well as in every other town with a population of more than a couple of thousand, you can go quench your thirst in a brewery after a hard day out.
Whale watching.
During Spring a lot of whales make their way to the feeding grounds in the far north and as they do so, you can spot them traveling up the Pacific coast. You can see them almost everywhere, as the rocky coastline gives you a spectacular view on the ocean. The closer you get, the better you can spot them. It's pretty hard to take pictures, though as they surface wherever they want and not for long.