How we happened to ride Maverick Snowboards.
We connected to Mats from Maverick Snowboards a while ago on Instagram and finally met in Stuben at the Longboard Classics where he allowed me to race one of his boards, the "177 Cheater". His planned to visit friends in Sestriere, Italy after the event and we had some time and were keen to see some more of the Alps. So we joined, because after all, we never snowboarded in Italy so far. The fact that Sestriere was expecting a big dump was even more tempting. Maybe, this would be our first and only powderlapse-day this season and I think we really deserved it.
The local crew from the shoppe.
In the morning the sky had cleared from the strom and we met up with Gionata, Ettore and their friends and family from the local snowboard shop "Surfshoppe Sestriere". Those guys are going back to the roots, building their own powdersurfboards since 2012 unter the brand Peace Love & Powder. Those things are huge and heavy but at least as fast. Even with the "Cheater" I couldn't manage to catch up. Was really nice to meet up and have an awesome shred day with them. Another nice thing about being on the mountain with locals is the car that suddenly picks you up when you end up on a random road and drops you right at the station in front of the queue so you're the first one when the gondola opens at 10am.
The "Cheater".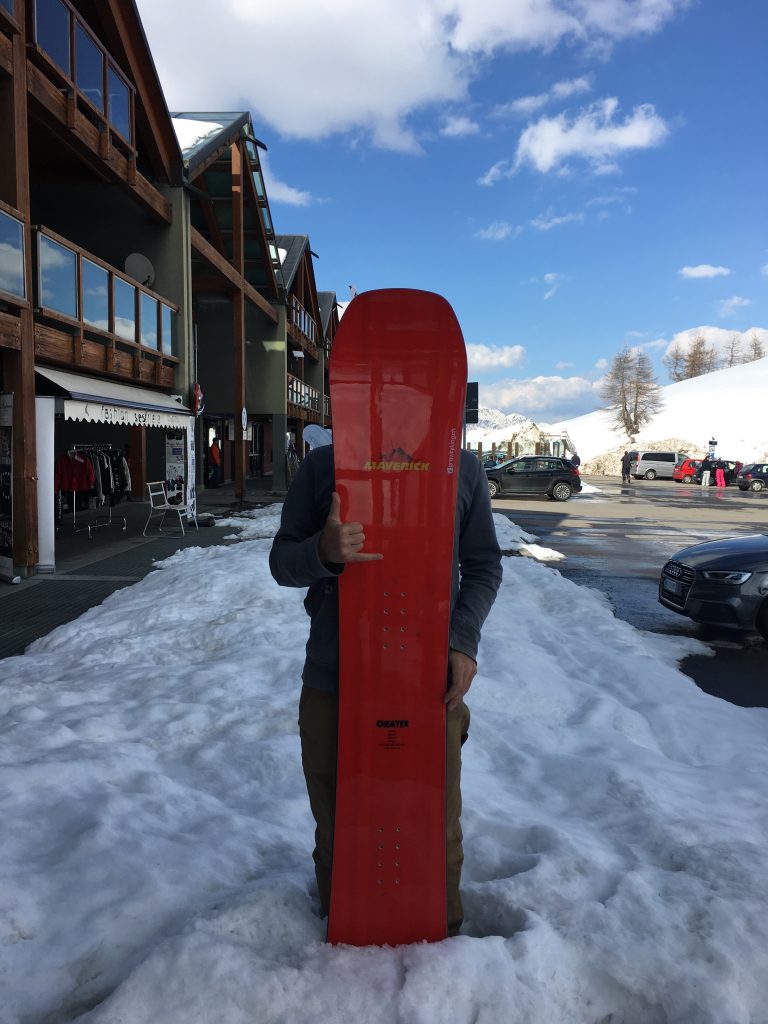 Mats has two boards on offer, one of them is the "Pipeliner" at 185cm and the other one – my favourite – the "Cheater" at 177cm or 5'8″, respectively. It really holds what Mats promised: it pretty much flies above the powder and if you attack the groomers, this thing from another world. I've been riding quite agressive boards throughout the years, including the custom made full-carbon-core boardercross-machine. But nothing matches with the power of 140cm of effective edge. It just goes and it feels like snowboarding on rails. If the slopes are crowded though, it's the wrong board. I'm really happy to call one of the "Cheaters" my own now and wonder how fast it can go. We'll find out next winter.